Four Seasons Resort Tamarindo, Mexico Unveils Culinary Ethos and Announces Partnership with World's Best Female Chef, Elena Reygadas
&nbspSunday, August 27, 2023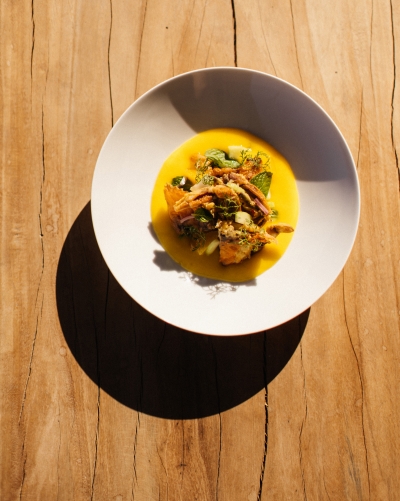 Located on a secluded peninsula within a private reserve on Mexico's Pacific Coast, Four Seasons Resort Tamarindo is reimagining luxury cuisine with a culinary experience inspired by Mexico's rich legacy, the origin of its distinctive ingredients, and its time-honoured traditions.
Led by Culinary Director Nicolás (Nico) Piatti, the Resort offers three restaurants – Coyul, Sal and Nacho – in addition to two bars. Each restaurant has its own concept and signature style but their commonality lies in featuring varying Mexican flavours representative of the country's renowned cuisine. Showcasing the region's dramatic seasonality while blending modern techniques with ingredient-forward creativity, the Resort's culinary program offers an unforgettable dining experience with settings for every occasion, from starlit dinners to barefoot lunches with opportunities for guests to raise a glass with old friends and new. An integral part of the character of the Resort is Puro Talento Mexicano, which celebrates Mexican talent across all disciplines – this core value is seen in the Resort's dedication to its root-to-dish culinary philosophy. Included in that is Coyul, where famed Mexican Chef Elena Reygadas has partnered with Four Seasons Resort Tamarindo and uses the country's bountiful harvest to take modern Mexican cuisine in exciting new directions.
"What Nico Piatti has created at Four Seasons Resort Tamarindo is an unforgettable culinary journey for guests from all around the world to smell, touch, taste and fall in love with the ingredients of this region," says Herve Fucho, Resort Manager at Four Seasons Resort Tamarindo. "Expanding our culinary aspirations by partnering with award-winning chef Elena Reygadas perfectly fits our desire to create an unrivalled dining experience at Coyul that is both authentic to Mexico and unique to Tamarindo."
A Collaboration Called Coyul
Renowned Mexican Chef Elena Reygadas, owner and visionary behind distinguished Mexico City establishments Rosetta, la Panadería de Rosetta, Lardo, Café Nin and Bella Aurora, has partnered with Four Seasons Resort Tamarindo to bring her award-winning talents and passion for the culinary heritage of Mexico to Coyul. Recently named the World's Best Female Chef by The World's 50 Best Restaurants, this is her first project outside of Mexico City.
At Coyul, Elena draws inspiration from Mexico's vibrant biodiversity, highlighting traditional ingredients with a comforting yet delightfully surprising menu. Every morning, guests can indulge in Elena's signature baked goods, passionately crafted using sourdough and artisanal methods. An extensive breakfast menu is offered alongside the incomparable ocean backdrop where highlights include the plantain enmoladas or the hoja santa quesadilla with milpa vegetables. At sunset, guests can savour dishes such as huachinango with tamarind and cucumber, or homemade pastas such as black tagliolini and stewed octopus, offering a taste of the Pacific's most beloved ingredients. Guests are invited to end their meal with delicate desserts, such as rice pudding with figs and fig leaf ice cream.
"I remember the first time I visited Tamarindo, I was fascinated by the surrounding nature. The overflowing vegetation, the birds singing, the vastness of the rocks and the closeness of the Pacific Ocean left me without words," says Chef Elena Reygadas. "It´s a pleasure to collaborate with the team in Tamarindo to create a menu that fuses my personal style and passion for Mexican cooking with the rich bounty that surrounds the Resort."
Tags: