Himachal tourism industry badly hampered by relentless rains, floods
&nbspSunday, July 30, 2023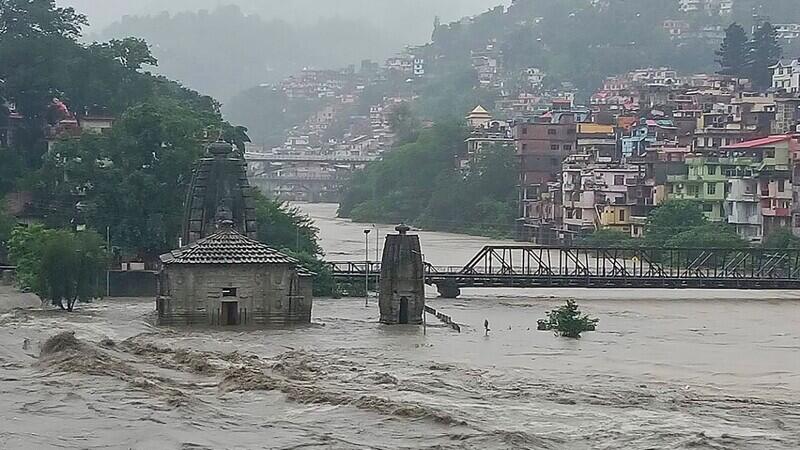 Himachal's tourism industry, which is the state's largest income generator and employment provider, has been struck by a double whammy. The panic induced by unrelenting rains, catastrophic landslides, and new weather projections of further severe to extremely heavy rainfall in eight of the twelve districts has lowered tourist arrivals to a record low in July 2023, following a high time in June.

According to hoteliers' information given by the state's tourism agency, hotel occupancy is between 5 and 6 percent. Tourists have avoided the slopes for fear of becoming stranded or uncertain about their safety due to landslides and floods. The majority of tourists are flying to Kashmir.
Except for Kangra, the main disadvantage of Himachal Pradesh is a lack of air connection.

In Himachal Pradesh, a state endowed with natural beauty, meadows, and cool valleys, the tourist sector accounts for 7% of the state's GDP and 14.42% of direct and indirect jobs.

To make up for the losses, the HPTDC, a government entity with roughly 60 hotels, has provided 50% discounts till September 15. This was maybe the first time, considering June and July were typically the busiest months for business.

In June 2023, 28.03 lakh visitors visited Himachal, up from 20.62 lakh in 2022.

Director (Tourism ) Amit Kashyap said," Tourism had started quite well in May this year. The tourist footfall before the floods was approximately 1.6 crore, significantly more than what we were getting before Covid-19 period. Now, the occupancy is below 8 to 10% ."

Tourists had terrifying moments when natural disasters ravaged Kullu-Manali and two vital National Highways—Kiratpur-Manali and Chandigarh-Shimla.

The state authorities evacuated 70,000 visitors, the most of them were in Kullu-Manali, with the exception of 290 who were stuck at snow-covered Chandratal in Lahaul-Spiti at a height of 14,100 feet.

When floods and storms inflicted havoc in the state, 497 visitors from over 21 nations were staying in Parvati Valley, Kasol, Kulga, Khirganga, and Manali.

"Everyone was rescued and evacuated safely. They were also provided food, medicines and water by the police, home guards and NDRF personnel" says Additional DGP (CID) Satwant Atwal, who supervised the operation.

Though Chief Minister Sukhwinder Sukhu has received praise for the safe evacuation of trapped tourists, few isolated incidents of visitors being duped by unscrupulous hotels and home-stay operators have tarnished the state's image.

Some of these perpetrators had been prosecuted by the district government. There were, however, many decent Samaritans.

The state administration and police department have been issuing travel warnings, advising residents to schedule their trips only when the weather is fair.

The swollen Beas River and its tributaries in Kullu have hampered travel, destroyed highways, inundated communities, and swept away bridges and roadways. Tourists would not consider booking vacations till the monsoon has passed.

There have also been tales of visitors cancelling their reservations after the worst rainfall in history slammed the highland areas. Some motels and restaurants near the river's banks have also been wiped away by the floodwaters.

Mohinder Seth, head of the Himachal Tourism Stakeholders Association, reports that hotels are experiencing a fresh issue in paying EMIs to banks. It is past time for the government to offer some assistance to the business in the form of a special package.
Tags: